Participate in one of the most beautiful cities in Europe with its City of Arts and Sciences and historic city center
Enjoy this Valencia private shore excursion 4 hours private guided tour with yourself, couple, family or private group from 1 to 6 people
Valencia private shore excursions. Discover Valencia with a private guided tour. This unique 4hours private tour takes you out of regular city of Valencia and into the futuristic City of Arts and Science, designed by famed Valencia architect Santiago Calatrava. Wander through the many complexes of this fascinating place, including the Hemiferic, the Oceanografic, the Agora, and the Museum Felip the Prince, and then make your way to the beautiful Palace of Arts, or Opera House, which measures in at more than 40,000 square meters and holds four distinct venues.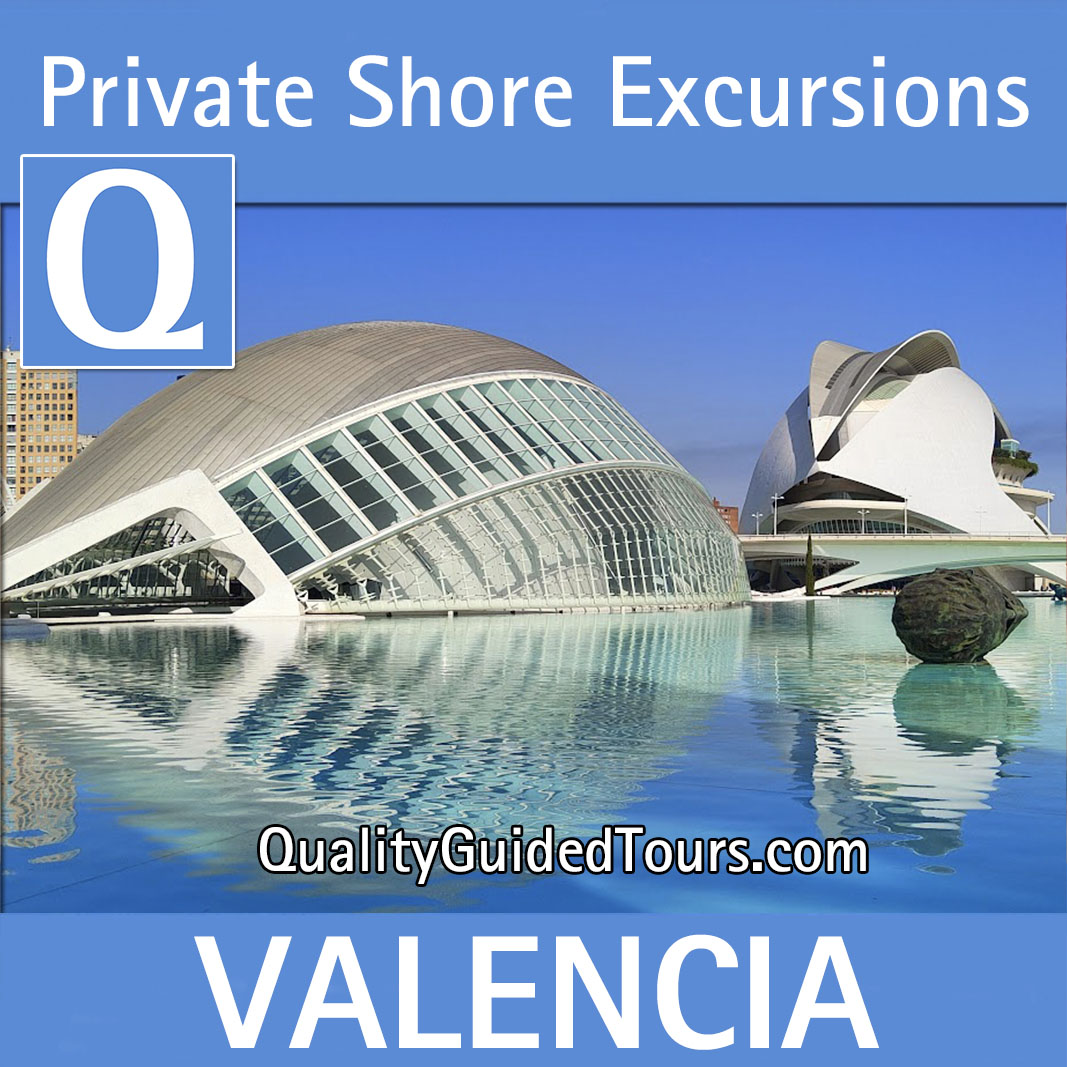 After your visit to the City of Arts and Science, enjoy a panoramic drive to Valencia's historical city center, where you will embark on a walking tour through the city's central market, and then head over to the Plaza Redonda. The next stop along the tour is a visit to the Plaza la Reina, where you will find the emblematic Cathedral of Valencia and its Holy Chapel, within which exists the holy chalice used by Jesus Christ in the Last Supper.
Finish the tour with a walking tour through Plaza de la Virgen and a visit to the Basilica of the Holy lady of Forsaken People.
What's included in our Valencia 4 hours private shore excursions:
• 4 hours private tour guide in Valencia. Guide/Driver will be the same person.
• Private transport up to 4 people in a car or up to 6 people in a mini-van.
• Central market interior.
• Basilica of the Holy Lay of Foresaken People.
Not included:
• Cathedral of Valencia entrance
** Meeting Point: Valencia harbour, Acciona Transmediterranea Terminal.**
Watch a video with our private guided tours in Valencia
¿Do you want to book private shore excursions in any location?
Donwload complete information about our private guided tours