Enjoy a panoramic view of the city by car and walking – Roman theater and amphitheater

Explore in this Cartagena private Shore excursions 4 hours private and exclusive shore excursions with yourself, couple, family or small private group from 1 to 6 people (transport incluided in a mini-van up to 7 people, 6 pax + 1 driver/tour guide)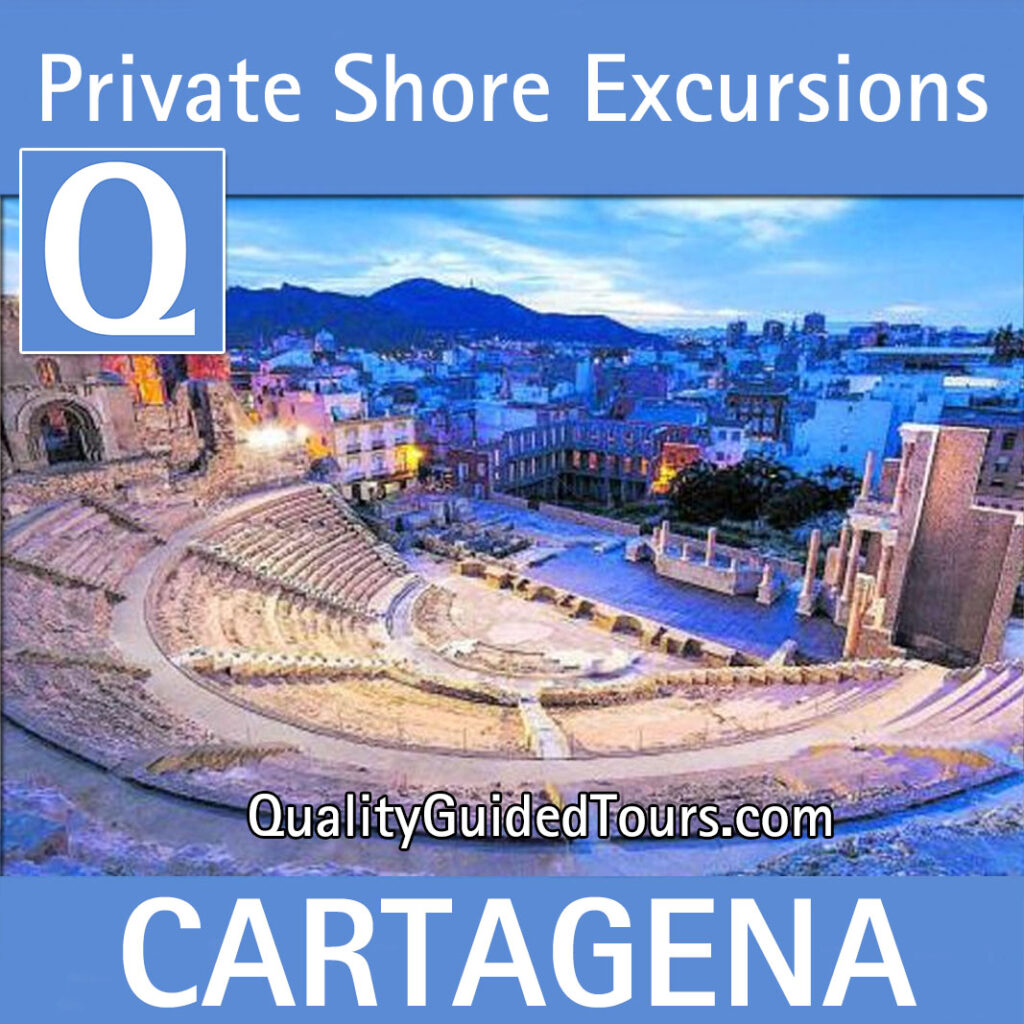 We will start the Cartagena private shore excursions visiting the Interpretation Center of the Punic Walls and "La Concepcion" castle. Marvel at the panoramic views of the Royal Marine, the quayside, and the Modernist city center of Cartagena
During this Cartagena private shore excursions you will take part in the Cartagena history with a great Cartagena itinerary! You will be accompanied by a Cartagena local guide for 4 hours.
Once you get to the Modernist city center of Cartagena the guide will tell you some Cartagena information and the early history of the Roman Theater, which was discovered by chance and recently restored. The Roman Theater was a great discovery, and very well restored where to appreciate the different stages, levels and the original columns configuring this impressive Roman Theater.
Best private tour guides in Cartagena
Walking and shopping in Calle Mayor will give you a great idea of the society from 19th century, when this area had its main economical splendour. Its main buildings are the Town Hall, with its 3 different façades, the Cervantes House or the Grand Hotel are the best and unique important sites in this Calle Mayor.
Afterwards, your guide will tell you about the early history of Cartagena and you'll visit the Interpretation Center of the Punic Walls, and also the Roman Theater, which was discovered by chance and recently restored.
Along the Calle Mayor you'll get a general idea about the economic boom of the 19th century. The Town Hall, for example, is a triangular-shaped building featuring 3 different façades. The Cervantes House boasts a façade featuring the white belvederes that are typical of Cartagena.

*Included in our private shore excursions in Cartagena:
4h Private Tour Guide in Cartagena. Guide / driver the same person.
Private transport included in a car (up to 4 people) or mini-van (up to 6 people).
*Not included:
Entrance to the Punic Walls Interpretation Center
Roman Theater
Meeting point: Cartagena harbour.